A while ago I posted a blog about reading paintings and a couple of weeks ago I wrote about my findings with whole class guided reading. Following these a few people have been in contact with me regarding which paintings are useful for supporting the development of reading skills.
This is by no means a definitive list, as that would be endless. This is more a list of paintings that I have used and found interesting to use in the classroom along these lines. I will not put these into one post but over several posts grouped according to theme/ genre or way they could be used etc. This will be a very much a work in progress and will build over time. I will try where I can to add to this each week but it's a start, so here goes…..
First World War
Over the Top by John Nash.
This painting shows the1/28th Battalion, The London Regiment in an attack on 30th December 1917 as they climb out of the trenches. Some soldiers have been killed already and lie dead. Others kneel in the snow while the rest march hunched through no mans land. There are many areas that could be explored in this painting including looking at the physicality of the soldiers. The way that Nash has chosen paint them, some with shoulders hunched, others kneeling in the snow, and what this might tell us about them. From this the children could explore some of the individual soldiers in terms of building stories for them and thought tracking them in the setting.
The Field of Passchendaele by Paul Nash.
This landscape is a way to explore themes and moods within an image. It could be used to look at what has happened to the scene – why is the landscape scarred? What would the landscape have looked like before – what clues are there? The use of colour is also significant in this image and could be used as a way of looking at how authors develop mood and atmosphere though the choice of weather which could  eventually lead into work on pathetic fallacy.
The Menin Road by Paul Nash.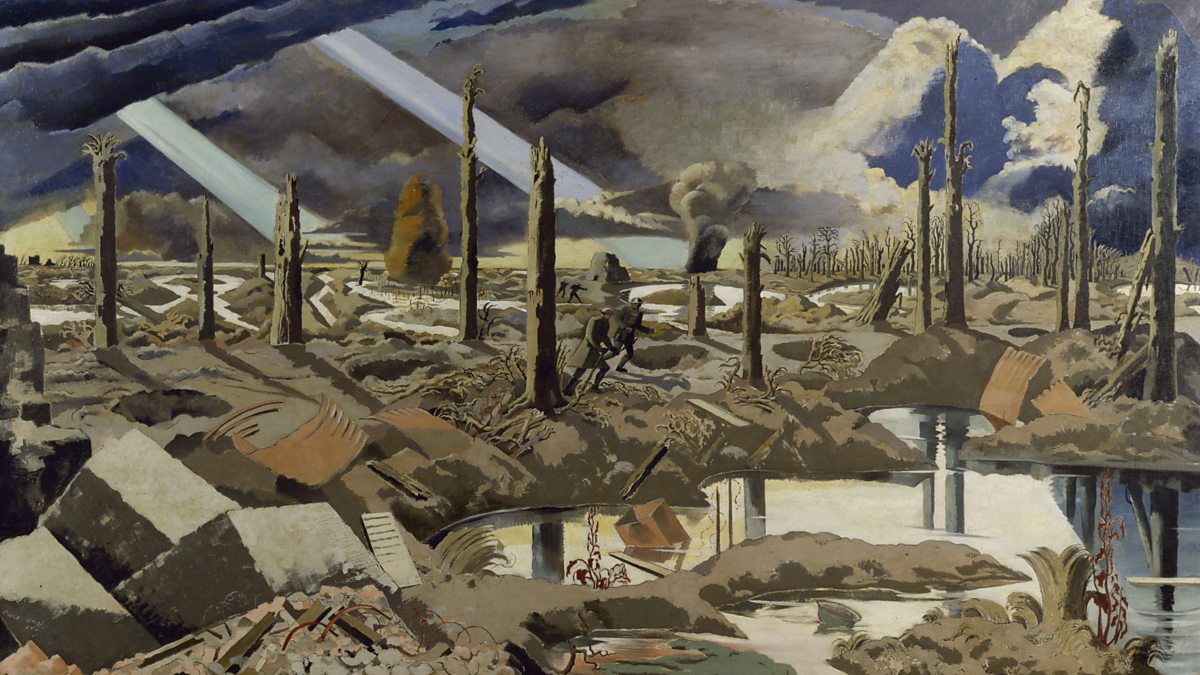 This landscape contains two figures in the centre of the scene and two smaller figures in the distance.  It is interesting to look at the proportion of the figures in the setting in relation to the landscape and what this might mean? It is also good to zoom in and focus on the two central figures, the way they are positioned – what that tells us about what they are doing and how they might feel about the situation that are in. There are clues in the painting as to what this area might have looked like previously which could be good to explore with the children.
Gassed by John Singer Sargent
This painting shows the aftermath of a mustard gas attack. There are many areas to explore within this painting. Key questions might include, what has happened? How do you know? Why are the men being led around? What do you notice about their bandages? What does this tell us? Why are some of the men clutching their heads?
Second World War
Preparations for D-Day by Richard Eurich
This painting focuses on the preparations made for the D-Day landings. I have used this image with children and talked about what it shows. Yes it shows an aspect of war but is there a battle taking place at present? How do they know? What has the painter shown? It might be interesting to compare this image with one which shows a battle in progress to see how the two are different.
Tube Shelter Perspective by Henry Moore
This is just one of many drawings which are worth looking at when exploring the Blitz. Pink and Green sleepers would be another drawing to look at and explore what is happening and what it tells us about the conditions during the Blitz. Why are the people so cramped together? Where are they? What are they doing? What would it have been like there?
At Sea on an LCI (Landing Craft, Infantry) by Edward Ardizzone
This image has an interesting perspective which is worth discussing with the children. Who is the observer? What position do they think the observer might be in? Also why does the image appear to be at an angle – what might this tell us? There are many groups and individuals which are good to examine in this drawing – what are the men doing? Are all the men in groups? Why might this be?
Other conflicts
Scotland For Ever! 1881 by Lady Butler
This shows a very different kind of battle and would be useful to use alongside the poem The Charge of the Light Brigade in order for the children to see and understand how battles used to be fought. It would be worth examining what the role of the man in the front and centre of the painting would be and why the artist might have chosen to do this.
Defeat of the Spanish Armada, 8th August 1588 by Philippe-Jacques de Loutherbourg
There are many elements in this that could be interesting to explore which link to reading. Why would the artist choose to paint the sea in such a way? What are the men in the smaller boats doing? Why? What has happened? Which direction do you think the attack is coming from? What evidence is there to support this?
Themes and topics I plan to cover over the next few weeks will include, The Tudors, The Vikings and The Victorians.